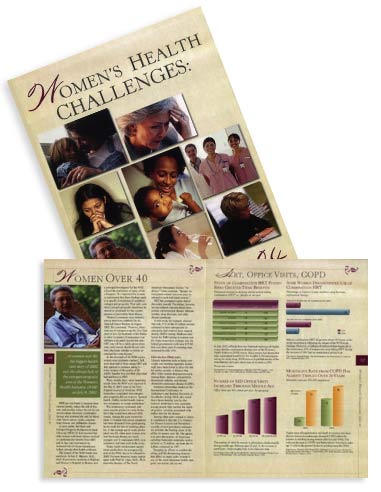 Women's Health Challenges: 2003-04
Women's health care needs are complex and diverse. Some diseases strike only women, while others affect women differently than they do men.
This annual publication, sponsored for six years by Solvay Pharmaceuticals, was created to present a profile of today's women and of the key social and economic trends that help shape women's lives.
The Women's Health Challenges reports have addressed such issues as health knowledge and attitudes, pregnancy, chronic illness, menopause, and women's relationships with their physicians. Each report has provided the latest statistics from the nation's most prestigious sources, along with insights into new and growing trends.
Through the years, this program has succeeded in enhancing Solvay's visibility and leadership positioning among pharmaceutical companies dedicated to improving women's health.
CLICK HERE
to see how our fresh, new custom marketing solutions can help grow your business!